Since being founded in 1995, the company has built its reputation with the successful implementation of all roofing material types. From hot-applied waterproofing to old tiles, public housing, upscale villas, commercial buildings, large scale residential projects, quick hotel renovations, all have been timely and efficiently delivered to highly satisfied customers.
In the early 2000s, Expert Roof started to cater the neighboring islands, especially the southern part of the island of Saint-Martin and can boast Porto Cupecoy or The Cliff as realizations.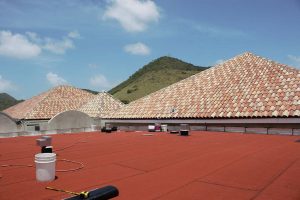 Twenty two years after its foundation, the group of companies took up the challenge of the devastation caused by hurricane Irma and lead roofing contractor on high stakes projects: Orient Beach residential complex, French Quarter Collège, Marigot High School, Numerous upscale villas staying true to its consistency in excellence.